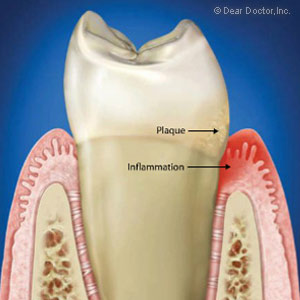 According to the U.S. Centers for Disease Control (CDC), nearly half of U.S. adults over 30 are afflicted with some form of periodontal (gum) disease—and one in five could be classified as severe. What's more, the incidence of disease only increases with age.
February is Gum Disease Awareness Month, a subject well worth its own focus month. The disease can be highly destructive and ultimately affect your overall well-being.
The various forms of the disease all have a common origin—dental plaque, a thin, bacteria-laden food film that naturally accumulates on teeth. The multiplying bacteria within plaque can first infect the surface tissues of the gums, especially around the gum line.
Although the body initiates an inflammatory response and releases antibodies to fight the infection, it's often not enough. Fueled by plaque, the infection can continue to advance into the gums and ultimately reach the tooth roots and supporting bone. If this occurs, the outcome could be devastating to both your oral and general health.
For one, an infection can weaken the periodontal ligaments that help secure teeth in place. This can cause them to detach from the teeth, creating infection-filled voids between the teeth and gums called periodontal pockets. The gums may also pull back or recede from the teeth, further exposing their roots to infection.
The spreading disease may also directly infect and damage tooth roots and the supporting bone. As a result, both the teeth and bone can lose a substantial amount of their structure.
As this process continues, the affected teeth may eventually pay the ultimate price and become lost. Losing teeth affects not only a person's appearance, but their overall dental function as well.
Given the odds of an encounter with this disease and the potential devastation that may follow, it's well worth doing everything possible to avoid it. The most important thing you can do is to eliminate the regular accumulation of plaque through daily brushing and flossing, as well as dental cleanings at least twice a year.
It's equally important to remain alert to any signs of infection. If you notice your gums are red or swollen, or if they bleed easily when you brush, call us as soon as possible for a closer examination.
Hopefully, your personal oral hygiene and regular dental care will keep you out of the reach of this harmful oral infection. And, should gum disease occur, the sooner we catch it and begin treating it, the less likely your mouth suffers extensive damage and tooth loss. Your oral health and well-being depend on it.
If you would like more information about preventing and treating periodontal disease, please contact us or schedule a consultation. To learn more, read the Dear Doctor magazine article "How Gum Disease Gets Started."